Venue 5126 is the dreamiest venue I have ever seen. This venue was the first and only venue we looked at. As soon as we got out of our car, we knew this is where we would get married. Kristen and Annie made planning our perfect day seamless and stress free. Not only did we have the time of our lives, our guest did, as well. We've received so many compliments about our wedding and it is the wedding to beat! Since then, many friends have reached out to find out where we got married and have booked their special day with Venue 5126! It truly is a one stop shop wedding venue that will make all of your dreams come to life. The space is spacious and accommodating to all types of guests. I wish we could celebrate there every year!!
Kelly C. |

6.17.2022
"My husband and I got married at Venue 5126 in August of 2022. The entire process with the Venue 5126 team was amazing and we could not recommend this venue enough. Kristen helped us from the moment we inquired about the venue all the way up until when the DJ stopped playing music and the lights were turned on the night of our wedding. Annie, the stylist, helped make decisions to pull our whole vision together – if we chose table numbers that didn't quite fit the rest of our decor, then she was sure to just double check that's what we wanted, for one example. Kristen kept all nerves at bay and was truly a dream to work with. It was great to know that any help or recommendations needed, we had someone to go to throughout the whole process. Thank you to the entire Venue 5126 team for making our day better than we could have ever imagined!!!"
Melanie R. | 8.20.2022
"We just had our wedding in May 2022 at Venue 5126 and it was the most PERFECT wedding venue and we have so many reasons why but I will list just a few of them here. First off, Kristen makes wedding planning so easy and is so on top of every detail. Also, I would definitely recommend their styling services because Annie is also THE ABSOLUTE BEST to work with and she made it the most beautiful day ever. Words can't describe how much I loved having my wedding at Venue 5126. Everything was so beautiful and so easy I did not have a single worry or anything to think about on my wedding day. Did I also mention that the venue is gorgeous? Amazing food and catering. So many cool add-ons like late night pizza, smores, etc. And all of the preferred vendors work together like family and know the space inside and out. So in summary, Venue 5126 is THE ABSOLUTE BEST and they made sure that I had the best day of my life!!!!!!"
Amanda S. | 5.20.2022
"We had our wedding at Venue 5126 in June and it was beautiful! Kristen and the team were all so helpful and kind. All of the details were planned perfectly and intentionally. The dinner tent was gorgeous and having the ceremony and reception at the same place was perfect for our wedding. The sunset over the field was beautiful! Our guests loved the remote setting and the barn – we had rain on our wedding day but still plenty of spots to take pictures. The patio was so fun and we had an ice cream truck which was so fun! Overall, we highly recommend Venue 5126 for your wedding day!"
Claire B. | 6.10.2022
"This was our second marriage so doing the whole wedding process again made me very nervous. The Venue 5126 made everything so easy. They were so professional, responded to any concerns or issues immediately. The day of the wedding they are very hands on and everyone raved about My Chef Catering. It's a beautiful Venue and I highly recommend it."
SK. |

10.23.2022
"We had our wedding here in November 2021 after having to postpone due to COVID. It was the most PERFECT day. I worked with Kristen and she helped me with all the small details and made everything go so smoothly. We had so many guests raving about how much they loved our wedding and how unique our venue was. I will warn you that it's VERY pricy, however, I do think it was worth every penny we spent. We got a lot of things for the price."
Jordan D. | 11.06.2021
"We held our wedding here on 10/17/21. It was the second venue we had toured and we loved everything about it! We wanted a fall wedding and the outside space was perfect for our ceremony. The beautiful barn and tent were great spaces for our coffee "cocktail" hour and brunch buffet. Kristen was our coordinator and was extremely helpful through the entire planning process! We also booked our catering and desserts through them and everyone loved our food. The venue is beautiful all on its own, but it's also a fun space to add your own decor for your big day. Over two months later and we still have guests talking about our wedding! We couldn't have done it without the team at Emerson. Book your wedding here!"
Emily G. | 10.17.2021
"Last weekend was beautiful! All of our guests could not stop talking about how magical and amazing the whole venue was. They made sure we had the wedding we envisioned and more, Kristen was so patient even after the million emails I sent her. She made sure everything will go smoothly. Staff especially the styling team was phenomenal! They added a couple of things to the details I wanted and made sure it will go well together to the theme I wanted to create. I will definitely recommend them. The food at the restaurant for our rehearsal dinner was amazing as well! We are forever grateful, they made our special day extra special."
Frances R. | 9.25.2021
"The minute we walked into Venue 5126, we knew that we had found our wedding venue. We wanted an elegant barn vibe and it is truly the best around. Not only is the venue space unique, gorgeous, and spacious, the staff is incredible. Kristen, the day of coordinator, is organized, kind, and made the day go perfectly smooth. Her coordination leading up to the day was invaluable. The styling team is AMAZING. Venue 5126 has so many beautiful spaces to decorate and has countless rentals to make it beautiful. They use My Chef for catering. Sue is the sweetest woman and helped guide us towards an incredible dinner. The food is so good!!! Our guests could not stop raving about how much they loved our venue and nor could we. Venue 5126 will always have a special place in our hearts, and we cannot wait to come in for lunch and visit!! Thank you everyone for making our special day flawless, beautiful, and so special."
Jocelyn N. | 7.30.2021
"There's a reason why Venue 5126 has a nearly perfect rating on The Knot; it's a unique, gorgeous venue and the team there are true professionals. Kristen, the day-of coordinator was wonderful to work with. Her communication was timely and clear; after our meetings she would provide an emailed summary including a list of what she needed from us. We were clear on what to expect at each stage of the planning. She was also great about looping us in on any questions or concerns she received from our vendors. The day-of, she did an incredible job of coordinating the stylists, MyChef and our vendors which made the day stress-free for us. The members of the styling team clearly love what they do; they were able to take some of our unique requests and make them look absolutely beautiful. The staff at Venue 5126 was outstanding the day of. We may be partial but we'd have to agree. We are so grateful to Venue 5126 for making our day so amazing and memorable."
Erica M. | 6.26.2021
This venue is a dream. This team is unlike any other. The keen attention to detail had all of our guests floored. We had multiple guests tell us that our wedding was the most beautiful wedding they had ever attended. Venue 5126 is unique in the sense that it is spacious and has plenty of room for your guests to spread out and mingle while still feeling like they are involved in every special moment that comes with a wedding celebration. By choosing to get married at Venue 5126, we were able to have our ceremony, cocktail hour, dinner and reception all on site. Kristen was a dream to work with and kept everything flowing seamlessly throughout the wedding planning process. We cannot say enough great things about the styling team either. Our wedding looked like it came off of a Pinterest board and we wouldn't have changed a thing. To everyone at Venue 5126, Thank you for making our dream wedding a reality!
Anna S. | 6.18.2021
"I don't even know where to start. If I can give Venue 5126 10 stars I would. We found Venue 5126 at the end of 2018 with our date to be summer of 2020. Unfortunately, we were one of the unlucky couples that had to postpone our wedding to 2021. Kristen and the staff were amazing and made the planning seamless, despite having to halt planning a year before. We were blessed to have the perfect wedding day! I was pleasantly shocked at how beautiful everything came together. The styling team did an amazing job perfect for our day. Kristen was amazing as our coordinator during the process and especially during the day of. She had everything in place and there was no thought on our end. I learned that Venue 5126 is a family run business and my guests took note of that and really appreciated the family feel not of the venue itself but also the people working there. I would highly recommend this place for a wedding. The venue is beautiful, the location is perfect, and the staff is amazing!"
Trisha P. | 6.19.2021
"Choosing Venue 5126 as our wedding venue was the absolute best decision we could have made. We knew from the first time we stepped foot on the property that it was where we wanted to say "I do". The grounds are just beautiful and the way that it looks all lit up at night is purely magical with the Edison light bulbs twinkling against the big sky. The owners Chris and Dave were so gracious in planning and accommodating with us when covid hit and did everything they could to give us our perfect day – and they absolutely did. Hands down the best part of the experience was being able to work with Kristen, Venue 5126's coordinator. Kristen was so knowledgeable and organized in getting everything ready for our big day, and as the bride I didn't have to worry about a thing. She walked us through every single step of the process and was there to answer any and all of our questions as they came up. I am getting choked up thinking of how perfect our day was with Venue 5126, and we cannot thank the entire team enough for making our dreams come true."
Ashley L. | 10.25.2020
"We had the best experience here! Kristen, the day of coordinator, was essential to our wedding day and truly is the reason we are giving them a 5 star review. The services she provides to make the day go smoothly are like no other. She is in really great communication with her couples and makes sure day of things go well! The venue itself is just gorgeous and really was a dream come true day of our wedding. Depending on your budget, you can rent from them or style yourself. We went the style yourself option, but if you are really wanting to do things up they have a great selection of rentals that you can take a look at on their website. The food was also good, My Chef did an amazing job and was super great about getting me and my groom fed night of the wedding. We also went with a few other Venue 5126 recommended vendors and not a single one of them disappointed!
Rachael F. | 6.1.2021
"Venue 5126 was a dream come true for our wedding day! The venue exceeded our expectations and the staff was fabulous! They felt like family but were so professional in every area! Kristen (our day of coordinator) was certain to make the day run smoothly and without any issues. Lisa, our stylist, made the venue look fantastic and even added little touches to make it personal! It was beautiful! Tina made our cake and took care of our sweets bar and it was a huge hit! She even added a touch of yellow flowers to the chocolate covered strawberries to look like our sunflower theme! We used props like the hitch for late night pizza and the VW bus for the photo booth and our guests were in awe! It was so much fun and creative! Venue 5126 did not disappoint in any way! I would recommend this place to anyone looking for a dream wedding. If I could do this day again, I wouldn't change a thing! Thanks for the best day of our lives!"
Allison B. | 8.17.2020
"Venue 5126 was recommended to us by a different venue that was no longer available on our wedding day. Little did we know it would end up being a blessing in disguise. As a result of Covid-19 my now husband and I were forced to change our venue only a few short months before our wedding. From our very first meeting with Elizabeth, we knew this was meant to be our new venue. Venue 5126 made everything so easy for us with the little time we had left to re-plan our wedding. Lisa and Kristen especially were both a huge help to us! Although everyone we met at Venue 5126 was always so helpful, friendly, and genuinely excited for us to have our special day. We truly could not have asked for a better wedding venue. To this day we still have friends and family telling us how much of great time they had at our wedding at how Venue 5126 is a hidden gem. You will not regret booking with Venue 5126. We cannot wait to visit this beautiful place in the future!"
Karilyn F. | 11.17.2020
"We had to switch wedding venues due to COVID-19 and we decided to move our wedding to Venue 5126 a month before our new day. They were SO kind and accommodating and made replanning a wedding in such a short time so easy. They were so positive and helpful in the midst of our panic. We felt like they genuinely wanted to help us have our perfect day despite so many changes. We met with our coordinator, Kristen, only once and she was incredible and so organized. She was so great the day of and took care of everything so we didn't have to worry about details – even something as small as making sure we had the drinks we wanted at our seats when the bar closed for dinner. We feel so lucky to have found Venue 5126 and that we were able to have our wedding the day we wanted to postpone to there. There isn't a more beautiful place or staff!!!"
AJ M. | 9.21.2020
"Getting married at Venue 5126 was truly a dream come true! From the initial consultation through to our wedding day, every detail was taken care of before I could even think of it. Kristen was so organized and on top of things that I did not have to worry about a single thing on our wedding day – a bride's dream! Molly styled the venue to absolute perfection. I truly could not have wished for a more perfect venue to celebrate the best day of our lives. I would recommend Venue 5126 to any couple looking for an ideal wedding venue. There are not enough wonderful things that I could say to do this establishment justice – the peace of mind that came with the level of professionalism that Venue 5126 offers allowed me to enjoy every moment of my wedding day completely stress-free. Thank you for making my wedding day more magical than I could have imagined."
Lauren R. | 3.12.2020
"Venue 5126 was our DREAM wedding venue and it lived up to every expectation on our big day! The staff are phenomenal- all around. Kristen, the day of coordinator, was so organized with quick replies at all times- she made the whole wedding planning process much less stressful! Molly, the venue stylist, was so easy to work with and oh-so talented by putting our wedding vision to life! Sue, from My Chef Catering, was heaven sent. She was the sweetest and we really enjoyed working with her! Everyone working for this venue made us feel like the priority and really aimed to go above and beyond for what we wanted for our wedding day. The grounds and venue is beautiful- SO unique! All of our guests were blown away and could not stop complimenting the venue/ our wedding the whole night and they still continue to do so 🙂 It was the perfect day. Highly recommend this venue- it is truly worth every penny!"
Brittany R. | 12.23.2019
"Venue 5126 is the absolute best wedding venue you could possibly go with. I cannot even begin to say how truly amazing the staff was from the moment we booked our date to the day of our wedding. They made the planning process so easy and took care of everything, leaving you no room to worry about forgotten details. Kristen, Molly, Evan and the whole team were so unbelievably helpful, sweet, professional and timely the day of the wedding as well, it was as if they were part of our wedding guests right there along with our friends and family. I can honestly call them family at this point, I just adore them. Not only is the team wonderful, the venue is just BEAUTIFUL. The barn, the field, the ceremony locations, everything was just PERFECT and far surpassed our dreams for a wedding venue. So many of our guests commented on how gorgeous the venue was, how great the food was (shout out to MyChef Catering too!), how professional the staff was, etc. My husband and I talk about how perfect our wedding was daily because of Venue 5126. You honestly do not have to look any further, just book them, ASAP. You won't regret it :)"
Jillian N. | 10.15.2019
"I honestly can say, it is not possible to have a bad wedding at Venue 5126! The venue is absolutely gorgeous! There are multiple options to have your ceremony, and I loved knowing that if there was bad weather, the barn ceremony would be just as gorgeous as the other options. The set up of the venue gives your guests so many fun options of things to do throughout the night, you can hang out in the barn and dance, or take a break sitting on the patio outside having a late night snack or s'mores. The staff is absolutely wonderful. I had the opportunity to talk to the owners multiple times, they love getting to know their couples! Kristen was such a fantastic coordinator- she really makes you feel confident the day will go smooth, and Molly is so talented her decorating skills are amazing ! Sue and the staff at my chef did an amazing job too! I had so many guests compliment that it was a 10/10 wedding! All the vendors Venue5126 recommends are exceptional as well! The day couldn't have been more perfect! I'm obsessed and wish I could relive it over and over!"
Nikki M. | 8.9.2019
"Venue 5126 was the perfect venue! The atmosphere was stunning. The staff was extremely accommodating & made us feel like the only couple in the world. From the moment we went for our first visit until the day of our wedding, the staff was nothing short of amazing. They made our day extremely special. A big thank you to day-of-coordinator, Kristen Gerwig. She met with us 3 times and was there on our wedding day ensuring every single moment was running smoothly. We had a lot of rain, but it did hinder our day one bit. It was beautiful indoors for the ceremony. Love this place!! Wish we could get married there again and again."
Elizabeth R. | 11.11.2019
"Venue 5126 was a dream to work with! From initial meeting, planning process, and the big day! The staff are entirely amazing and have such passion for what they do to help make your wedding vision come to life. Kristen was very detailed and helped us navigate our arrangements. Molly was a delight with handling our many decorative items for styling and set up. Tina designed and everyone raved about the deliciousness of all the cake flavors! Venue 5126 made everything so easy for us and can not say how much I enjoyed working with them for our wedding! I would highly recommend any future couple who is looking for a charming atmosphere, excellent service, and caring staff to consider Venue 5126 for their special day!"
Dana T. | 9.9.2019
"I cannot say enough good things about Venue 5126. As our venue search began, we were quickly disappointed in many of the venues we initially visited, as they were in a hurry to show us around, give us a listing of available dates, and hurry us off to meet their next appointment. Our first meeting with Venue5126 was incredibly different. They welcomed us at the first initial meeting like family, and asked us questions about what we wanted our wedding day to be. It was not a rushed "in and out" meeting, but a thorough, heartfelt discussion about Venue5126 as a venue, as well as what we were looking for. I knew from the first meeting that we would be in great hands, and I was right! Venue5126 is run like a well-oiled machine. The owners, the stylists, and Kristen all work together with the couples to ensure that each and every detail is covered and taken care of. I could not have been more relaxed on my wedding day, as I knew that nothing would go wrong due to the team at Venue 5126."
Signe S. | 11.5.2018
"Let's be honest, the rustic Barn wedding is super popular right now, and there are lots of different places within a 50 mile radius of Chicago you could choose from. We looked at quite a few of the others, but none came close to the comfort we felt with the Venue 5126 team, and the magic that was created a few weeks ago at our wedding. Things to consider that I really appreciated in retrospect: the ceremony space options are far off the main road, so no road noise. Kristen is an incredible day-of coordinator, and the team of stylists will take your details and create you a space that feels personal and beautiful. Everyone we encountered from the staff to the awesome guys that set up the dining room were happy to be there, and happy to help us. During the evening, absolutely everything was taken care of, and no detail was spared. I didn't worry about a thing that night; I was able to simply focus on feeling the pure joy every bride wants to feel on their day."
Stephanie G. | 10.7.2018
"We spent a lot of time looking for a wedding venue that was perfect for us. The bride really wanted a barn wedding but we were struggling to find the right one. Venue 5126 stood out to us. The venue itself is beautiful, featuring a barn that wouldn't need a single extra decoration if the client desired. Further, Venue 5126 includes many things in their wedding package that many other venues don't. They include a day of coordinator, they include tables, chairs, and linens. They have their own design team you can choose from if you desire. There team is very accommodating and it is clear they aimed to specialize in weddings. A feature we didn't realize how much we would enjoy was the patio. As our wedding night went on we noticed the dance floor was pretty quiet. We quickly figured out why! Our friends and family were out on the patio. As with many families, they don't get to be together like this very often and were really enjoying that they had somewhere a bit quieter (compared to the dance floor) to talk and enjoy eachothers company."
Alexander J. | 9.27.2018
"Having our wedding at Venue 5126 was such an amazing blessing. The venue is beautiful, the staff gracious and accommodating, the catering company wonderful. The list goes on and on! We were looking for 1) a venue that fit us, our personality and style 2) a low stress venue. Not only did this fit our criteria, but it surpassed it! Planning a wedding includes many details and some that you may not think of! Kristen, the event coordinator, made sure that everything was taking care of in a timely and kind manner during the pre wedding process. The day of the wedding, everything flowed so well, and any hiccups. The rentals and stylists were a pleasure to work with. There and so many lovely rentals to choose from and Amy, our stylists, covered every detail and made the venue absolutely stunning! Thank you so very much, from the bottom of our hearts!"
Katie S. | 7.28.2018
"Venue 5126 is literally a picture perfect venue, we had compliments all night long about how amazing everything looked and felt. From first contact to the day after, everyone at Venue 5126 made sure that our day was perfect. We worked with Kayleigh to sign the venue and her sweet personality made us realize we made the right decision. Once we were closer to the date, we worked close with Kristen, the day of coordinator. She ensured that every single detail went according to schedule and was so easy to work with, you can tell she does this for a living! Every communication was timely and detailed. The week of, I had no questions or concerns, everything was wrapped up nicely. Not a single thing went wrong and the whole wedding was an absolute fantasy. We are so happy with Venue 5126 and wish we could replay the day over and over!"
Shannon C. | 10.16.2018
"We decided on Venue 5126 because it is absolutely beautiful .From our very first appointment we were in love with this venue. The planning process was so easy with all the wonderful women at Venue 5126. Kayleigh in Sales, Melissa in Billing, Kristen our Event Coordinator, Caitlyn our Pastry Chef, Tina our Stylist, Karen for our Rehearsal dinner, Susan from My Chef for our reception dinner. Our Wedding went off perfectly! It was truly a dream come true. Our guests and us of course cannot stop talking about how absolutely beautiful the day was! Thank you Ladies at Venue 5126 for our perfect wedding day!!"
Christine W. | 9.4.2018
"As a newly engaged person looking for a venue, there's a certain expectation to be treated special because you're planning a wedding! Then you realize that every wedding event planner is dealing with dozens of other people just like you. Some of them make you feel like one of a dozen, but not Venue 5126. For our first tour, we were immediately hugged upon arrival and treated like friends. We felt right at home. I remember leaving in tears because I could picture getting married there so clearly! We met the stylists this way and we were sold! On the day of the wedding, I was blown away at the decor- between Lara and my florist, everything was picture perfect and was better than what I had envisioned. Not a single person bothered me with silly questions- because Kristen was there to absorb it all. I was treated like a princess all day long and just couldn't picture my wedding day going any other way. Venue 5126 made my dream wedding come true!"
Samantha R. | 7.10.2018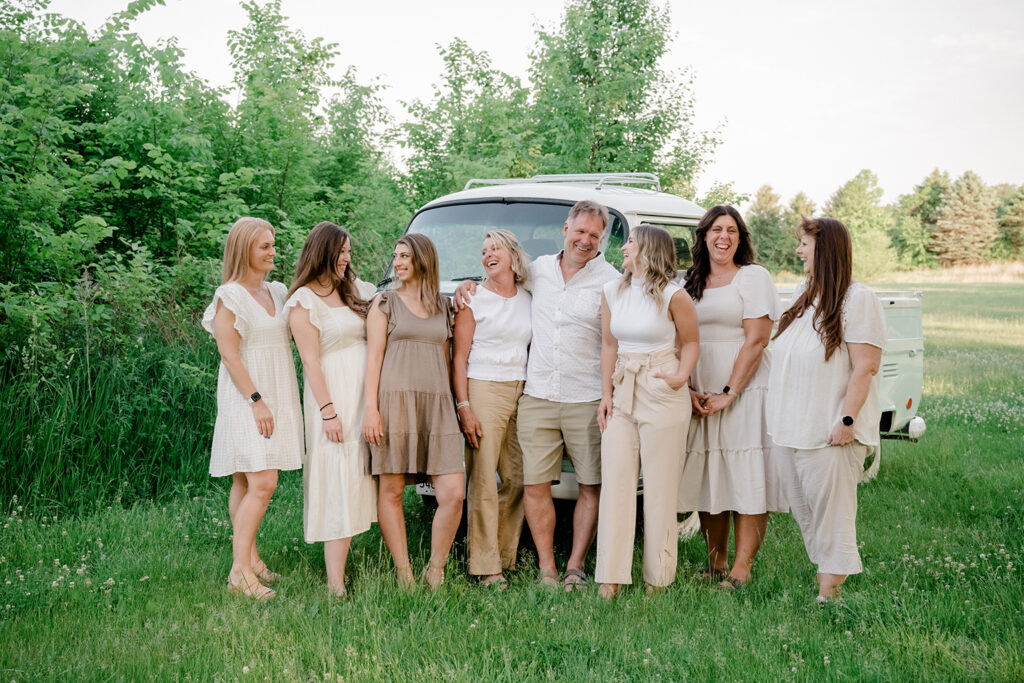 Meet the Team
Along with the beautiful scenery and elegant barn, we have a friendly staff that will make your family their own, and go above & beyond to make your wedding an unforgettable day.
Meet the Team