Invest in Your Perfect Day
At Venue 5126, we understand that your wedding day is a celebration of love, a moment that will be etched in your hearts forever. Our venue provides the perfect backdrop for your love story, ensuring a day filled with magical moments and cherished memories.
Why Choose Venue 5126 for Your Special Day?
Exquisite Setting: Nestled in the farmland of Oswego, IL, our venue offers breathtaking views and stunning grounds, creating a romantic ambiance that is simply unmatched.

Professional Service: Our dedicated team is committed to making your dream wedding a reality. From planning to execution, we take care of every detail, allowing you to relax and savor every precious moment.

All-inclusive capability: Not only do you get everything you need within our per person pricing (the venue, the food, wedding coordinator, tables, chairs, linens, waitstaff, china, glassware, etc.) we also offer the hirable services of our in-house Florist & Styling Coordinator and DJ.

Rentals Boutique: We understand that every love story is unique. That's why we offer our rental and styling packages to suit your preferences, ensuring that your wedding day is a true reflection of your style and personality.
Investing in Your Forever: Pricing Details
We believe in transparency and want you to have a clear understanding of the investment required for your dream wedding at Venue 5126. Our 2025* per person pricing is based on your meal choice from our exclusive caterer and ranges from $165/person – $190/person.
For full pricing breakdown and list of inclusions email events@venue5126.com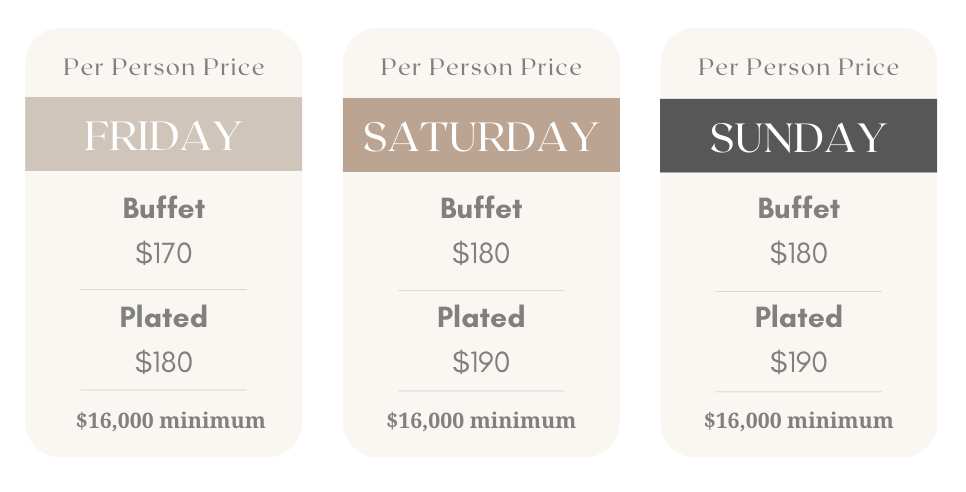 *For 2024 pricing details please email us at events@venue5126.com
Let's Begin Planning Your Magical Day
Ready to take the next step toward your fairy-tale wedding? Contact us to schedule a consultation and discuss how we can tailor our services to create the wedding of your dreams. We're here to turn your vision into reality.
Invest in your forever with Venue 5126. Your journey to a magical wedding starts here.
Contact Us to Get Started

Email events@venue5126.com to book your your today!